(hit "refresh" to get the most recent version of this page; click on photos for larger images)
former Sinclair station
Tulsa, OK
This former Sinclair station was built in 1929. It is now occupied by Rossi Brothers Door & Window Company. The building is listed on the National Register of Historic Places. [map]
former Sinclair station
Woodward, OK
This former Sinclair station housed Woodward Lock & Key and Woodward Radiator when these photos were taken in 2011. By 2014, the building had been painted brown. The office was being used to sell billiards supplies. The rest of the building appeared to be a repair or body shop. [map]
former Sinclair station
Durant, OK
This former Sinclair station has housed the Three Valley Museum since 2003. [map]
former Sinclair station
Henryetta, OK

This former Sinclair station is dressed up as a D-X station now. It was Walt's D-X Station at some point. The pumps were added sometime in or after 2009. These photos are from 2011. For more, see this website. [map]
former Sinclair station
Ada, OK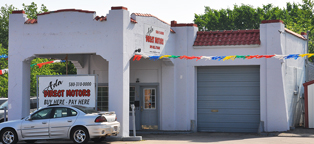 This former Sinclair station was occupied by Ada Direct Motors when these photos were taken in 2011. By 2013, the building was housing Access Car Sales. By 2016, the building had been painted grey and blue. It was housing Manuel Collision Center. [map]
former Sinclair station
Ardmore, OK
This former Sinclair station in Ardmore was built around 1930. The building now houses a Daylight Donuts. [map]
former Sinclair station
Oklahoma City, OK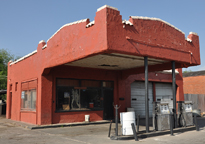 This former Sinclair station shown above appeared to be abandoned when this photo was taken in 2011. At some point, the canopy's original supporting columns were replaced with poles. The building was still vacant in 2017. [map]
former Sinclair station
Oklahoma City, OK
This former Sinclair station now houses the Glass Guys. [map]
former Sinclair station
Oklahoma City, OK

2011:
2019: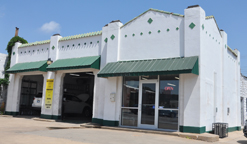 This former Sinclair station appeared to be vacant in 2011. The building would have had a canopy originally. By 2014, the building was housing Penn Auto Glass Company. [map]
former Sinclair station
Canute, OK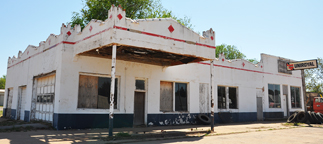 This former Sinclair station is often referred to as Kupka's Service Station. The rooftop and canopy details are a little more castle-like than the standard design. I don't know if this was original or added later. [map]
RoadsideArchitecture.com

Copyright. All photos at this website are copyrighted and may only be used with my consent. This includes posting them at Facebook, Pinterest, blogs, other websites, personal use, etc.

Tips & Updates. If you have suggestions about places that I haven't covered, historical info, or updates about places/things that have been remodeled or removed, I'd love to hear from you: roadarch@outlook.com.