(hit "refresh" to get the most recent version of this page; click on photos for larger images)
Gene's Locksmith
Henderson, NV
Excalibur Hotel & Casino
Las Vegas, NV
The Gene's Locksmith building has been used as a music venue and an elephant-themed museum. It was built in 1991. I don't know what business was located here originally. It may have been a games arcade. This photo is from 2014. In 2017, the building began housing the Sunset Castle Banquet Hall. The turrets have been painted blue. For more, see this website. [map]

The Excalibur Hotel & Casino was built in 1990. When it opened, it was the largest hotel in the world with more than 4,000 rooms and covering over 70 acres. For more, see these websites: 1 and 2. [map]
Kingdom Gentlemen's Club
Pahrump, NV

The Kingdom Gentlemen's Club opened in 2004. This building was constructed then. This photo is from 2014. The building has been vacant since 2015. [map]
Castle Building [gone]
Reno, NV
Castle Auto Sales
Akron, OH
This Castle Building in Reno appeared to be vacant when this photo was taken in 2014. Previously, it was used for a used car dealership. Does anyone know what was here originally? The building was demolished in 2015.

The Castle Auto Sales building appears to be an oldie. Does anyone know when it was built or what its original function was? This photo is from 2009. By 2019, the building had been painted a gold color. [map]
Sno Castle
Youngstown, OH
Sno Castle
Anderson, IN
The Castle
Muskogee, OK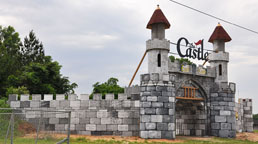 The Castle features a Renaissance Festival, Halloween and Christmas Festivals, and other special events. I believe this gate was built in 1995 for the first Oklahoma Renaissance Festival. There are other castle-like buildings on the 60 acre property. For more, see these websites: 1, 2, and 3. [map]
Club 21 [gone]
Portland, OR
This may be stretching the definition of castle a bit but I'll include this building since it had an interesting history. Club 21 was built as a Russian Orthodox Church in the 1930s. It later became a bar known as The Shadows. It had been Club 21, a bar, since 1958. It was demolished around 2017. For more, see this website.
Kings & Queens Hotel & Restaurant
Stoystown, PA
The Kings & Queens Hotel & Restaurant building was constructed in the 1930s as a hotel and auto repair shop. In 1938, it became the Hilltop Hotel. A restaurant and bar were added at that point. In 1970, the business was sold and it became the Kings & Queens. The castle-like remodeling took place at that time. For more, see this website. [map]
Fairy Tale Academy
Upper Darby, PA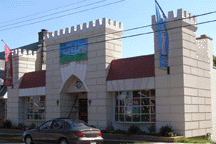 The Fairy Tale Academy, a child care and learning center, is housed in this castle-like building. [map]
Castle Video Games
Blacksburg, SC
Castle Video Games, a video game casino, opened around 1999. It seems a legal battle with the state of SC quickly ensued over the legality of video game gambling. The state won the case and the place has been abandoned since then. [map]
More South Carolina Castle Buildings:
Heritage USA (Fort Mill) [gone]
Castle Building
Wall, SD
This Castle Building serves as a pool supplies storage unit at an Americas Best Value Inn. [map]
RoadsideArchitecture.com

Copyright. All photos at this website are copyrighted and may only be used with my consent. This includes posting them at Facebook, Pinterest, blogs, other websites, personal use, etc.

Tips & Updates. If you have suggestions about places that I haven't covered, historical info, or updates about places/things that have been remodeled or removed, I'd love to hear from you: roadarch@outlook.com.