(hit "refresh" to get the most recent version of this page; click on photos for larger images)
DeAngelis Donuts
Rochester, PA
DeAngelis Donuts offered "delightfully different donuts" at three locations. This Rochester location was the first, is still open and features a this intact, original sign. This was one of two of these signs created in the early 1960s. The one in Beaver Falls, PA was destroyed when that location closed. The plastic doughnut revolves with assistance from a slip clutch to deal with high winds. The owner spends about $600 per year to maintain this sign. The Chippewa location is still open but does not have a sign like this. [map]
Donut Dip
West Springfield, MA
The Donut Dip opened in 1957. Its building, interior and signs all appear to be original. These photos are from 2009. The signs were repainted sometime between 2013 and 2015. The brown paint is now red. For more, see this website. [map]
Willard's
Daylight Donuts
Emporia, KS
All Star Donuts [gone]
San Francisco, CA
Hunt's Donuts
San Francisco, CA
The Willard's Daylight Donuts sign appears to be from the 1950s or 1960s. [map]

The All Star Donuts sign was built around 1951. In the 1990s, the sign read Hunt where it now reads "All Star." The neon had not worked for many years. The bottom part of this sign was previously painted yellow. It was repainted around 2006. In 2014, the business closed. In 2015, the Glaze Teriyaki restaurant opened in the space. This sign remained intact. It was removed in 2019 and is now in storage.

There was another Hunt's Donuts location and sign in San Francisco. That nearly identical sign is now displayed inside Neon Works in Oakland. That location also had a painted wall sign which has been recently uncovered (photo above right). [map]
Donut Whole
Wichita, KS
Circus Donuts
Torrance, CA
The Donut Whole opened in 2008. This is a reworked sign from a previous business. [map]

Circus Donuts appears to be from the 1960s. [map]
Donut Corner
Oakland, CA
Jolly Pirate Donuts [gone]
Lancaster, OH
Jolly Pirate Donuts
Grove City, OH
Honey Dip Donuts [gone]
Columbus, OH
Donut Corner has been closed for many years but this sign remains as of 2015. This photo is from 2008. The sign has more rust since then. For more, see this website. [map]

This Jolly Pirate Donuts in Lancaster opened in 1966. The store closed and was demolished in 2003. I don't know if this sign was saved.

The Jolly Pirate Donuts in Grove City still has a nicely preserved neon and plastic sign. There are still more than a dozen other Jolly Pirate Donuts in OH, WV and KY. However, I don't believe any of these locations have this style sign. For more, see this website. [map]

This Honey Dip Donuts store had an adapted Jolly Pirate Donuts sign. The sign was removed in 2018 for "city construction." It was still missing in 2019. For more, see this website. [map]

There is another adapted Jolly Pirate Donuts sign in Columbus, OH for the Golden Donuts & Diner. [map]
Jolly Donut
Sandusky, OH

2005:
2012:
As far as I know, the Jolly Donut is not related to Jolly Pirate Donuts described above. The plastic panel depicting three donuts was replaced with a new one between 2007 and 2012. Hidden behind the brick is a Mountain View diner from 1954. For more, see this website. [map]
Spudnut Shoppe
El Dorado, AR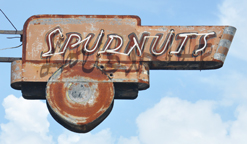 former Spudnut Shop
Plainview, TX
2012:
2017:
Spudnuts are potato flour doughnuts. The nationwide chain was founded in 1946 in Salt Lake City, UT. The company no longer exists but there are still several remaining stores operating independently. For more, see these websites: 1 and 2.

The Spudnut Shoppe in El Dorado opened in 1948. This sign might be from then. The store moved to its current location around 1968. [map]

The Spudnut Shop in Plainview opened in the early 1950s. The store moved to this A-frame building in 1968. The store became Benjamin Donuts in 2014. I believe the store still sells potato donuts. [map]
More Spudnut Shops:
Amarillo, TX: 1, 2 [gone]
Pampa, TX
Daylight Donuts
Tulsa, OK
2011:
2006:
2019:
Daylight Donuts
Laramie, WY
Daylight Donuts
Verdigris, OK
Daylight Donuts is a nationwide chain with about 900 locations. The company was founded in Tulsa in 1954. For more, see this website.

This building in Tulsa was built in the early 1950s as a Tastee-Freez. It was later an Arby's and a Shaw's Drive-in, before becoming a Daylight Donuts. Over the years, the building was expanded and the outdoor patio enclosed. This sign was originally constructed for Shaw's Drive-in and adapted for Daylight Donuts. The owner could not afford the estimated $20,000 to restore the sign. In 2012, the neon on the sign was repainted red and yellow. By 2018, the sign had been repainted pink and green. The wooden shingles on the canopy were gone and it was repainted green and white. For more, see these websites: 1 and 2. [map]

The Laramie sign is probably from the 1960s. Although they must have been mass-produced, I haven't seen another one like this. [map]

The signs at the Daylight Donuts Verdigris are probably from the 1960s. [map]
RoadsideArchitecture.com

Copyright. All photos at this website are copyrighted and may only be used with my consent. This includes posting them at Facebook, Pinterest, blogs, other websites, personal use, etc.

Tips & Updates. If you have suggestions about places that I haven't covered, historical info, or updates about places/things that have been remodeled or removed, I'd love to hear from you: roadarch@outlook.com.