(hit "refresh" to get the most recent version of this page; click on photos for larger images)
Blue Dolphin Diner
Apalachin, NY
Giant Dolphin
Marathon, FL
The Blue Dolphin Diner features this giant dolphin on its roof. [map]

The Giant Dolphin with the Baby Dolphin stands at the Dolphin Research Center. He/she is 30 feet tall. The dolphin that starred in the TV show "Flipper" is buried at the Center. [map]
Dolphin Fountain
Santa Barbara, CA
Giant Dolphins
Wildwood, NJ
This Dolphin Fountain was created by Bud Bottoms. The bronze statue was installed at the foot of Stearns Wharf in 1985. For more, see this website. [map]

These statues of Giant Dolphins in Wildwood are located at the Starlight Fleet which features dolphin and whale watching trips. [map]
Dolphins
Tallahassee, FL
The fountain in Waller Park was built in the 1970s. The 50-foot long Dolphins sculpture group by Hugh Branford Nicholson was added in 2003. The "Stormsong" dolphins are made of cast stainless steel and aluminum. [map]
These Dolphins have been located in front of Bay Quest since at least 2007. The store was recovering from Hurricane Harvey when these photos were taken in 2018. [map]
Dolphins, Seal & Killer Whale
Pismo Beach, CA
These Dolphins, Seal & Killer Whale statues are located at the playground of Dinosaur Caves Park. The park opened in 2003. There is also a Dinosaur & Eggs statue here. [map]
Shark-Man
Galveston, TX
Gianni's Italian Bistro & Bar
Galveston, TX
Shark Attack 5D Theater
Galveston, TX
This concrete Shark-Man statue was created by Don Canaday. It has been here for many years and withstood Hurricane Ike in 2008. [map]

The sharks at Gianni's Italian Bistro & Bar and Shark Attack 5D Theater are located next door to each other. The Gianni's shark has been there since at least 2007. The building previously housed Island Smoothie and Body Language Tattoo. The Shark Attack shark was built in 2017. [map]
Giant Shark
Morro Bay, CA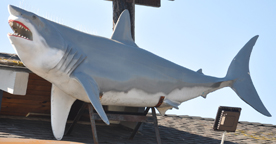 This Giant Shark has been installed on the roof of the Great American Fish Company since at least 2007. [map]
Great White Shark [gone]
Washington, DC
This Great White Shark statue was installed in 2010 front of the National Geographic Society museum. This display was to promote their "Expedition Great White" TV program. The statue is gone now.
Palace Beachwear and Gifts
Corpus Christi, TX
Bargain Beachwear
North Myrtle Beach, SC
Palace Beachwear and Gifts features a giant shark entrance. Most of these souvenir shops only have mouth entrances -- not the entire shark body. [map]

Bargain Beachwear features a giant shark mouth entrance. [map]
Jaws Beachworld
South Padre Island, TX
Third Coast Beach Company
Corpus Christi, TX
The Jaws Beachworld shark has been there since at least 2007. [map]

The Third Coast Beach Company shark has been there since at least 2007 when the store was known as Destination. [map]
Mirage Beachwear
Port Aransas, TX
Destination Beach & Surf
Port Aransas, TX
The Mirage Beachwear shark head has been here since at least 2006. [map]

The Destination Beach & Surf shark has been here since at least 2007. [map]
Souvenir City
Gulf Shores, AL
Souvenir City opened in 1956. This shark has been there since at least 2002. [map]
Sharkheads
Biloxi, MS
Shark
Lakeville, MN
The Sharkheads gift shop opened in 1977 as T-shirt City. In 2000, the store expanded and added a 32 foot tall shark head entrance. The name was changed to Sharkheads. The building and shark were destroyed by Hurricane Katrina in 2005. In 2012, the store and shark were rebuilt. For more, see this website. [map]

The Shark in Lakeville is located at Hot Sam's Antiques. This photo is from 2012. It has a more realistic paint job in 2009. [map]
More Shark Statues:
Clermont, FL
Homosassa, FL
Fort Walton Beach, FL [gone]
Key West, FL
Sarasota, FL
Charleston, IL
Grand Island, NE
Center Moriches, NY
Port Clinton, OH
McClellanville, SC [gone]
Pigeon Forge, TN
Bennington, VT
Puerto Nuevo, MX
Adelaide, AU
RoadsideArchitecture.com

Copyright. All photos at this website are copyrighted and may only be used with my consent. This includes posting them at Facebook, Pinterest, blogs, other websites, personal use, etc.

Tips & Updates. If you have suggestions about places that I haven't covered, historical info, or updates about places/things that have been remodeled or removed, I'd love to hear from you: roadarch@outlook.com.