(hit "refresh" to get the most recent version of this page; click on photos for larger images)
Whataburger was founded in Corpus Christi, TX in 1950. By 1960, the company had opened 17 restaurants in Texas, Florida, and Tennessee. There are now about 600 locations. Of these, there are about 15 of the 30-foot-tall A-frame buildings left. The first one was built in 1961 in Odessa, TX at Whataburger's 24th location. That location has either been significantly remodeled or, more likely, completely rebuilt. The company built other location in other states later on (AR, GA, LA, MS, and NM) but I don't believe any of those were A-frame buildings. The more modern versions of these buildings, like the one shown in Tulsa below, are wider with dine-in wing additions on both sides. For more, see these websites: 1 and 2.

This section is organized alphabetically by state and by city within Texas. The last page features some unusual designs in Arizona, California, and Florida.
Whataburger
Mobile, AL

2010:
2019:
This Whataburger location was the 104th location, built in 1973. The building was remodeled a bit around 2017. [map]
Whataburger
Chickasaw, AL
This Whataburger location was built in 1973. [map]
former Whataburger
Phoenix, AZ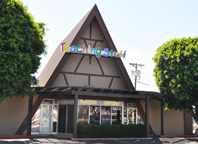 This building which now houses Teaching Stuff was built as a Whataburger. The A-frame doesn't seem steep enough to be the classic vintage design. [map]
Whataburger
Tallahassee, FL
2009:
2020:
This Whataburger in Tallahassee was built as #72 and opened in 1970. The building was repainted around 2012. For more, see this website. [map]
former Whataburger
Shreveport, LA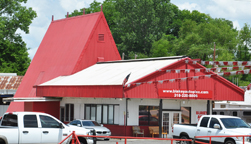 This former Whataburger now houses the Blakey Auto Plex used car dealership. [map]
former Whataburger
Oklahoma City, OK

2011:
2020:

This Whataburger was location #79, built in 1970. This was the only remaining A-frame Whataburger in Oklahoma. By 2014, the building was housing the Patty Wagon. [map]
former Whataburger [gone]
Tulsa, OK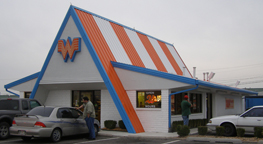 The photo of this more modern Whataburger building is from 2006. By 2015, the building was vacant and painted white. By 2017, it had been demolished.
former Whataburger
Memphis, TN
This former Whataburger housed Love's Seafood when these photos were taken in 2010. By 2014, the business had closed and the building was vacant. [map]
former Whataburger [gone]
Abilene, TX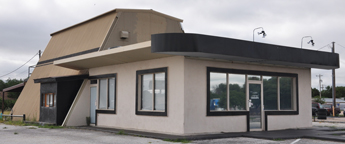 This former Whataburger had been built by 1971. The building later housed a used car lot office and a beauty parlor. It appeared to be vacant in 2018. The building was gone by 2021.
former Whataburger
Abilene, TX
This former Whataburger was the 36th location and opened in 1964. The building has apparently been vacant for many years. [map]
RoadsideArchitecture.com

Copyright. All photos at this website are copyrighted and may only be used with my consent. This includes posting them at Facebook, Pinterest, blogs, other websites, personal use, etc.

Tips & Updates. If you have suggestions about places that I haven't covered, historical info, or updates about places/things that have been remodeled or removed, I'd love to hear from you: roadarch@outlook.com.