(hit "refresh" to get the most recent version of this page; click on photos for larger images)
former Whataburger
Carrollton, TX
former Whataburger
Laredo, TX
This former Whataburger in Carrollton was repurposed as a Mexican restaurant. Walls were added to the canopy area to turn it into a dining area. The building was vacant when this photo was taken in 2011. It was still vacant in 2016. [map]

This former Whataburger in Laredo now houses Mr. Shrimp & Tacos Kissi. I believe this is the only location or former location that still has the triangular arches over the canopy. [map]
former Whataburger
Port Arthur, TX
This former Whataburger was built in 1970. The building now houses John's Seafood. [map]
former Whataburger
Temple, TX
This former Whataburger was built in 1969. Since 1993, the building has housed Rylander's Best Hamburgers. [map]
former Whataburger
Pasadena, TX

This former Whataburger was built in 1963. The building has been vacant since around 2016. It housed the South Garden restaurant before that. [map]
former Whataburger
Waco, TX

This former Whataburger was here by 1973. It now houses Waco Motorsports II. [map]
former Whataburger
Houston, TX

This heavily remodeled, former Whataburger now houses The Branch restaurant. [map]
former Whataburger
Houston, TX
former Whataburger
Abilene, TX
This former Whataburger has housed the Taqueria El Dorado since around 2015. It was another Mexican restaurant before that. The drive-in canopy has been filled in and a false front nearly conceals the A-frame part of the building. [map]

This former Whataburger had been built by 1971. The building has housed a used car lot office and a beauty parlor. I believe it is currently vacant. [map]
former Whataburger
Shreveport, LA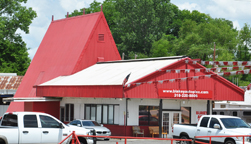 This former Shreveport location now houses the Blakey Auto Plex used car dealership. [map]
former Whataburger
Memphis, TN
This former Memphis location housed Love's Seafood when these photos were taken in 2010. By 2014, the business had closed and the building was vacant. [map]
former Whataburger
Del Rio, TX
former Whataburger
Phoenix, AZ
The former Whataburger in Del Rio has housed Qik Oil Change since at least 2008. The canopy was chopped off just before the dining room. [map]

This building in Phoenix which now houses Teaching Stuff was built as a Whataburger. The A-frame doesn't seem steep enough to be the classic vintage design. I suspect it was built with the more modern design like those in Tulsa and Grand Prairie shown below. [map]
former Whataburger [gone]
Tulsa, OK
former Whataburger
Grand Prairie, TX
The modern Whataburger design, like the ones in Tulsa and Grand Prairie, maintains the basic A-frame appearance although the buildings are wider and have dine-in wings on the sides.

The photo of the Tulsa building is from 2006. By 2015, the building was vacant and painted white. By 2017, it had been demolished.

The Grand Prairie building has housed different restaurants since at least 2007. It now houses Pappy's Catfish. [map]
Whataburger
Corpus Christi, TX

2008 and 2011:
2019:
This unique, two-story Corpus Christi location was built in 1999. It is known as the "Whataburger by the Bay". By 2015, the building had been painted a cream color. For more, see this website. [map]
Whataburger
Phoenix, AZ
Whataburger
Scottsdale, AZ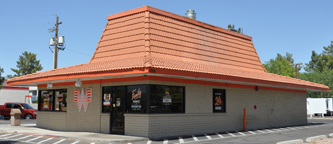 former Whataburger
Oxnard, CA
former Whataburger
Lakeland, FL
This Whataburger in Phoenix is the same design as this building which I believe was in Glendale, AZ originally. [map]
This Whataburger in Scottsdale has a slightly steeper roof. It was probably built around the same time as the Phoenix location. They might be from the 1970s. [map]
This Whataburger in Oxnard was built using the same design as the ones in Arizona. Whataburger built some locations in California in the late 1970s but ceased operating there by 1987. This location was later renamed Lot-A-Burger. There's a Blake's Lotaburger New Mexico-based chain. However, I don't believe Blake's ever had locations in California. Blake's is famous for its green chile hamburgers and this Oxnard location is remembered for its jalapeno burgers. So, it's possible that it might have copied the name and menu a bit. This restaurant is now named A-Burger. [map]
This Whataburger in Lakeland is now occupied by Hungry Howie's Pizza & Subs. This building style might have been confined to Florida. There are other examples around including another one in Lakeland, FL, as well as others in Brandon, FL, Ruskin, FL, Fort Meade, FL, and Seminole, FL. For more, see this website. [map]
RoadsideArchitecture.com

Copyright. All photos at this website are copyrighted and may only be used with my consent. This includes posting them at Facebook, Pinterest, blogs, other websites, personal use, etc.

Tips & Updates. If you have suggestions about places that I haven't covered, historical info, or updates about places/things that have been remodeled or removed, I'd love to hear from you: roadarch@outlook.com.