(hit "refresh" to get the most recent version of this page; click on photos for larger images)
Giant Guns [gone]
Lubbock, TX
The Giant Guns were on the lot of Custom Iron Works. I believe they both doubled as sculpture and BBQ grills. These photos are from 2006. By 2012, the guns were gone.
Giant Revolver
Atoka, OK
Giant Revolver
Duncan, OK
This Giant Revolver in Atoka functions as a barbeque grill. [map]

This Giant Revolver in Duncan is located at La Fortuna BBQ. This gun may also function as a barbeque grill or smoker. [map]
Giant Revolver
Denison, TX
Giant Revolver
Childress, TX
This Giant Revolver in Denison is installed in front of Hickory House Bar-B-Que. It was installed at some point between 2008 and 2016. [map]

This Giant Revolver in Childress is installed in front of Trading Post & Loan. It has been there since around 2016. [map]
Giant Gun
Kansas City, MO
Giant Gun
Del Rio, TX
This Gun in Kansas City is located at the Pistol Social Club which closed in 2010. This photo is from that same year. This gun was still there in 2017. [map]

This Gun in Del Rio is installed next to Humphrey's Gun Shop. This six-shooter was created in 1981 by Bob Wade. It is 20 feet long and made of steel and stucco. It represents a Colt single-action revolver. [map]
Gun City Corporation [gone]
Clearwater, FL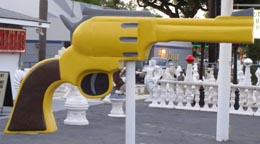 This Giant Gun was installed in front of Gun City Corporation, a gun shop which also sold garden statuary. The giant gun was about 10 feet long. This photo is from 2009. It was still there in 2014. By 2016, the gun was gone and there was a used car dealership on the lot.
Giant Rifle
Cody, WY
Giant Musket
Glendale, CO
This Giant Rifle is installed on the roof of Outdoor Sports Center. [map]

This Giant Musket is installed on top of the sign at Shotgun Willie's. It is about 15 feet long. [map]
Giant Rifle & Giant Chainsaw
Ishpeming, MI
The Giant Rifle and Giant Chainsaw are located at Da Yoopers Tourist Trap. Da Yoopers opened in the late 1980s so these "sculptures" were built sometime after that. The Chainsaw is 23 feet long and has a working motor. The Rifle is 35 feet long and actually shoots. For more, see this website. [map]
Giant Cartridge
Roe, AR
This Giant Cartridge is installed on top of the Sanders LaGrue Sporting Clay Range sign. [map]
RoadsideArchitecture.com

Copyright. All photos at this website are copyrighted and may only be used with my consent. This includes posting them at Facebook, Pinterest, blogs, other websites, personal use, etc.

Tips & Updates. If you have suggestions about places that I haven't covered, historical info, or updates about places/things that have been remodeled or removed, I'd love to hear from you: roadarch@outlook.com.