(hit "refresh" to get the most recent version of this page; click on photos for larger images)
Mt. Burney Theatre
Burney, CA
El Rey Theatre
Chico, CA
The Mt. Burney Theatre was built in 1940. It is still operating as a single screen theatre. For more, see these websites: 1 and 2.

The El Rey Theatre opened in 1905 as the Majestic, a vaudeville house. In 1926, it was remodeled and renamed the National. In 1939, it was remodeled again became American Theater. In 1946, the theatre was severely damaged in a fire and the interior was rebuilt. At about the same time, a fire destroyed The El Rey Theatre in Oakland, CA. The marquee was saved from that theatre and moved here, prompting yet another name change. The El Rey closed in 2005 and was nearly converted into office and retail space. In 2007, it reopened as a live performance venue. For more, see these websites: 1 and 2. [map]
The Senator Theatre opened in 1927, featuring vaudeville and movies. It was restored in 2001 and was later converted into a performing arts center. For more, see these websites: 1, 2, 3, 4, 5, and 6. [map]
Vogue Theatre
Chula Vista, CA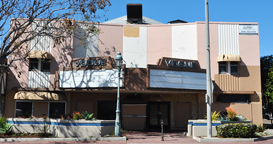 The Vogue Theatre was built in 1945. It closed in 2006 and the building has been vacant since then. Restoration began in 2014. For more, see these websites: 1, 2, and 3. [map]
Clover Theatre
Cloverdale, CA
Colusa Theatre
Colusa, CA
The Clover Theatre was built in the early 1950s. It was designed by Gale Santocono who was also responsible for the Raven Theatre described above. For more, see this website. [map]

The Colusa Theatre opened in 1931 and closed in 1995. The blade sign was destroyed during a storm in the mid-1980s. The marquee sign was restored in 1996 when renovation work began. The theatre reopened in 2004. For more, see these websites: 1 and 2. [map]
Rodgers Theatre
Corning, CA
The Rodgers Theatre was built in 1935 and closed in 2006. The theatre is currently being restored. For more, see these websites: 1 and 2. [map]
Port Theatre
Corona Del Mar, CA
2008:
2013:
The Port Theatre opened in 1950 and closed in 1998. In 2007, there were plans to demolish the building. However, it was saved and, in 2010, it was remodeled and reopened as the New Port Theatre. For more, see these websites: 1 and 2. [map]
Village Theatre
Coronado, CA

2008:
The Village Theatre opened in 1948 and closed in 2000. In 2010, restoration work began. The theatre reopened in 2011. The interior was converted for three screens. For more, see these websites: 1 and 2. [map]
Culver Theatre
Culver City, CA
The Culver Theatre opened in 1946 and closed in 1989. In 1994, the Culver's auditorium was gutted for asbestos removal. In 2004, the theatre was restored as a performing arts center. It is now known as the Kirk Douglas Theatre. Douglas had made a $2.5 million donation towards the restoration. Unfortunately, the original neon marquee was removed. For more, see this website. [map]
RoadsideArchitecture.com

Copyright. All photos at this website are copyrighted and may only be used with my consent. This includes posting them at Facebook, Pinterest, blogs, other websites, personal use, etc.

Tips & Updates. If you have suggestions about places that I haven't covered, historical info, or updates about places/things that have been remodeled or removed, I'd love to hear from you: roadarch@outlook.com.