(hit "refresh" to get the most recent version of this page; click on photos for larger images)
Restaurant
Canton, MS
Western Auto
Associate Store
Canton, MS
Haggard Drug Store
Clarksdale, MS
This Restaurant sign hangs above Bettina's Soulfood Kitchen now. I'm sure there have been numerous businesses here before that. the sign is probably from the 1950s. [map]

This Western Auto Associate Store is long gone but the sign remains. These signs were being mass-produced by the mid-1940s. Some or all of them originally had neon. [map]

The Haggard Drug Store sign is probably from the 1940s or 1950s. The building appears to be vacant now. [map]
Cook & Fortenberry Pharmacy
Columbia, MS
Wheeler Drug Store
Decatur, MS
The Cook & Fortenberry Pharmacy displays a rare Walgreen Agency sign. [map]

The Wheeler Drug Store opened in 1959. This modern sign was built in 2013. There was a plain rectangular sign before this. [map]
Aut-o-Matic Car Wash
Grenada, MS
The Aut-o-Matic Car Wash survives as part of a Conoco gas station. The sign appears to be from the 1960s. [map]
Holiday Terrace
Motel [gone]
Houston, MS
Bel Air
Shopping Center
Jackson, MS
Lott
Furniture
Jackson, MS
Redwood Court
Jackson, MS
The Holiday Terrace Motel sign was probably from the 1950s. It had been draped with Christmas lights since at least 2008. I don't know if those lights illuminated the sign. The sign was gone by 2015. This sign was obviously inspired by the Holiday Inn sign which was developed in 1952. For more, see this website.

The Bel Air Shopping Center is still in operation and retains this 1950s looking sign. [map]

Lott Furniture opened here in 1935. The store was still open when this photo was taken in 2010. The store closed around 2013. The building was vacant but the sign was still there in 2016. The buildings are being converted into apartments. This sign was removed in 2017 but put back up soon after that. I'm told that it is lit even though the store itself has closed. For more, see this website. [map]

The Redwood Court was originally known as the Redwood Tourist Court and was operating by the 1940s. There was a smaller, simpler sign there then. This sign is probably from the late 1940s or 1950s. [map]
Peoples Cafe
Jackson, MS
Delta Mart Shopping Center
Jackson, MS
The Peoples Cafe opened around 1928. The building was remodeled in 1936 and the original sign was probably from then. The business has been closed for many years. The building was restored in 2017. By 2018, this replica sign was installed. For more, see this website. [map]

The Delta Mart Shopping Center was built in 1957. These signs are probably from then. The larger sign on the left is at the main entrance while the one on the right is at the back entrance. [map]
Tabor Drugs
Louisville, MS
Kroger
McComb, MS
Tabor Drugs opened in 1954. This sign originally read Walgreen Agency in the middle of the panel like the Cook & Fortenberry Pharmacy sign in Columbia shown above. Around 2014, the sign was completely covered up with white paint. It was restored sometime after 2016. This photo is from 2019. For more, see this website. [map]

There are still a number of these Kroger supermarket cube signs in Mississippi and many other states but they are getting rarer. I believe they were built in the 1970s. [map]
Dixie Gas [gone]
Meridian, MS
Cinderella [gone]
Meridian, MS
This Dixie Gas sign had either been painstakingly restored or it was a nostalgic copy. It stood next to an overpass, on the fringes of downtown in an empty lot when this photo was taken in 2007. The gas station had been demolished in 1986. The sign was removed in 2016.

The Cinderella store originally housed the Cinderella Slipper Shop, a shoe store. In recent years, the building housed Cinderella's Spatique. This photo is from 2007. By 2013, the sign was gone. The building is gone now as well.
Meyer &
Rosenbaum
Insurance
Meridian, MS
Jared's Sandwich
Shop [gone]
Meridian, MS
Rock House
Trading Post
Meridian, MS
Graham Transfer
& Storage Co.
Meridian, MS
Imperial Laundry
Meridian, MS
Meyer & Rosenbaum Insurance was established in 1932. This sign is probably from the 1950s or 1960s. [map]

I believe Jared's Sandwich Shop was still a new business when this photo was taken in 2007. The sign was either vintage in mint condition, with appropriately changed lettering, or it was an extremely faithful copy of an old sign. By 2008, the building and sign were gone.

The Rock House Trading Post is a gun shop and pawnbroker. When they moved, they brought along this sign. The sign is probably from the 1950s or 1960s. It may have been re-texted. For more, see this website. [map]

Graham Transfer & Storage Co. was established in 1932. This sign is probably from the 1950s. [map]

The Imperial Laundry was established in 1944. This sign might be from then or the 1950s. [map]
Red Hot Truck Stop
Meridian, MS
2007:
2019:
The Red Hot Truck Stop opened in 1955 and this sign was built then. The restaurant was demolished in 2000 but this sign remains. There is now a used car lot below the sign. Around 2018, one of the panel's arrows was bent considerably. For more, see this website. [map]
Hotel E.F. Young Jr.
Meridian, MS
Weidmann's
Meridian, MS
The Hotel E.F. Young Jr. opened in 1946. These signs are probably from then. The hotel closed in 1978 and was used for office space. It has been vacant for many years now. [map]

The Weidmann's restaurant opened in 1870. It moved to its current location in 1923. This sign might be from the 1950s. It was taken down when the building was renovated around 2001. It was stored in a garage until it was sold at auction. The restaurant then bought back the sign from the person that had purchased it. [map]
Pizza Hut [gone]
Natchez, MS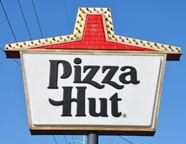 This Pizza Hut sign had been adapted with newer lettering. It would have looked like this one in New Philadelphia, OH originally. This photo is from 2010. By 2014, this location had closed and the building was vacant. Only the frame of the sign was left.
Lovelace Drugs
Ocean Springs, MS
Lovelace Drugs opened in the 1950s and the sign appears to be from then. The Brown's Velvet Ice Cream sign also appears to be vintage and may also have been installed at the same time. The building was constructed in 1926 for Ocean Springs Drugs. In 2011, when Fred's Drugs opened in the building, the City's Historic Preservation Ordinance prevented a sign change. Fred's closed in 2016. The business became Lovelace Drugs again and the signs remain. By 2021, the business had closed again. [map]
WHOC
Philadelphia, MS
Frishman Department Store
Port Gibson, MS
The WHOC radio station was established in 1948. This sign may be from then on the 1950s. [map]

The Frishman Department Store is gone but this Red Goose Shoes sign remains. There are only a few Red Goose signs still on display around the country. [map]
One Hour
Martinizing
Tupelo, MS
Tom's
Automotive
Service
Tupelo, MS
directional sign
Tupelo, MS
One Hour Martinizing was part of the Martinizing dry cleaning chain. This is one of the company's older signs. It is probably from the 1950s. There's a similar example in Milwaukee, WI. For more about the chain, see this page. For more, see this website. [map]

This obelisk-shaped sign at Tom's Automotive Service appears to be backlit plastic. The business opened in 1952 and this sign may be from then. [map]

This directional sign was built by the Balton Sign Co. of Memphis. It was installed in 1945. The arrow points to downtown. It also proudly mentions the city's status as the first city to have electrical service from the TVA (Tennessee Valley Authority) New Deal program in 1934. For more, see this website. [map]
Long's Laundry
Tupelo, MS
Wheel Estate Mobile Homes
Tupelo, MS
The Long's Laundry sign is believed to be from the early 1950s. The sign originally had neon and the woman's arms were animated. In 2000, the laundry building was demolished and the sign was donated to the Oren Dunn City Museum. The sign was repainted around 2016 and put on display. For more, see this website.

Wheel Estate Mobile Homes was established in 1967 and this sign is probably from then. [map]
Kellogg Hardware
& Appliance
West Point, MS

The Kellogg Hardware & Appliance sign has been repainted since 2009 (this photo is from 2010). The neon is lit at night. I believe this store has been here since 1946. [map]
Mississippi Valley
Gas Company
Winona, MS
Supervalu
Winona, MS
Webb's Pharmacy
Yazoo City, MS
This Mississippi Valley Gas Company sign was originally installed at the Winona office. It has been installed in the parking lot of Dee's Pizza Inn since at least 2008. The owner plans to move the sign inside in 2019. [map]

This Supervalu sign appears to be a 2-D version of the fiberglass statues used in conjunction with Big John supermarkets. I believe the name of the store here originally was the Big Star Grocery. Some people recall him being called "Big Jim" or "Rusty". The Big John chain started out as the Big Star chain. It's not known if this sign preceded the statues or if he was created during the same time period. I suppose it's also possible that, at some point, the sign replaced a damaged statue. The store was destroyed by a fire in 2015. There are plans to rebuild. I assume the sign will remain. For more, see this website. [map]

Webb's Pharmacy opened in 1886. This backlit plastic sign is probably from the 1960s. These signs were mass-produced and painted with different drug store names. [map]
RoadsideArchitecture.com

Copyright. All photos at this website are copyrighted and may only be used with my consent. This includes posting them at Facebook, Pinterest, blogs, other websites, personal use, etc.

Tips & Updates. If you have suggestions about places that I haven't covered, historical info, or updates about places/things that have been remodeled or removed, I'd love to hear from you: roadarch@outlook.com.